Remote Merchant Capture
Saving time and money are two of the most important things on a business owner's mind – we can help by providing optimum efficiency and productivity through Remote Merchant Capture.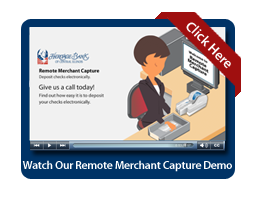 How it works
Remote Merchant Capture is a device that allows you to deposit checks electronically from your desktop – anytime, anywhere. It utilizes a desktop scanner that connects to your personal computer and the Internet. With it, you can scan checks received from customers and issue deposits electronically to the bank. It's secure, efficient and cost-effective, like having a 24-hour bank teller right in your office.
---
Contact us about Remote Merchant Capture
To set up Remote Merchant Capture contact any branch, your Commercial Banker or complete the information below.
Please Note: Do not send personal account information using this form.