Mobile Banking
Heritage Bank is proud of its newest location – your cell phone! Manage your accounts anytime, anywhere. View account balances, recent and pending transactions, transfer funds and receive Watchdog Alerts via text message. Mobile Banking, Your Bank on the Go, is easy to use and it's FREE for Heritage Bank customers.
Mobile Banking works with virtually any digital cell phone, including the newest smart phones.
And no need to worry about security. You can feel comfortable with the safety of conducting transactions with multi-layer authentication and our One Time Password technology!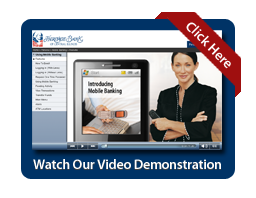 ---
Frequently Asked Questions
Mobile banking is the newest service from Heritage Bank that allows you to access your Personal accounts from your cell phone anytime, anywhere.
View current and available account balances
View most recent transactions
View pending items
Transfer funds between accounts
Receive Watchdog alerts via text message regarding account activity
Mobile Banking will provide access to the same accounts that are viewable through Personal Online Banking including checking, savings, CD's and loans.
Mobile Banking, Your Bank on the Go, is a FREE* service for Heritage Bank customers who are enrolled in Online Banking.
Yes. All messages exchanged between the cell phone and server are encoded with 128 bit encryption. Mobile Banking features multiple layers of authentication during log on including:
1. User ID (same as Online Banking)
2. Mobile PIN number
3. One Time Password each time you log in
Any Heritage Online Banking customer with a cell phone and Internet access. Whether you're a college student, a business traveler or a busy mom, Mobile Banking is Your Bank on the Go!
If you're a current Online Banking customer, simply log in to sign up for Mobile Banking. From the Options menu, choose "Mobile Banking" and complete the form. If you're not an Online Banking customer, click here and you'll be directed to the Online Banking page.
No. Once you've enrolled, Mobile Banking is activated and ready to use.
Open the Web browser on your cell phone
Type in the Web address for Mobile Banking
Type in your User ID. This is the same ID used for Online Banking log on
Type in the 4-digit Mobile Banking PIN number you selected during enrolment
Type in the One Time Password
Users can request a new One Time Password to be sent to their cell phone (or e-mail address) from the Mobile Banking log on screen. To access the Mobile Banking Log on screen visit www.heritage-bnk.com/mobile.asp on your smart phone.
The Access ID used for Mobile Banking is the same as the Access ID used for Online Banking.
No. Mobile Banking is a browser-based application that does not require any software to be loaded on the individual device. It can work on nearly any cell phone.